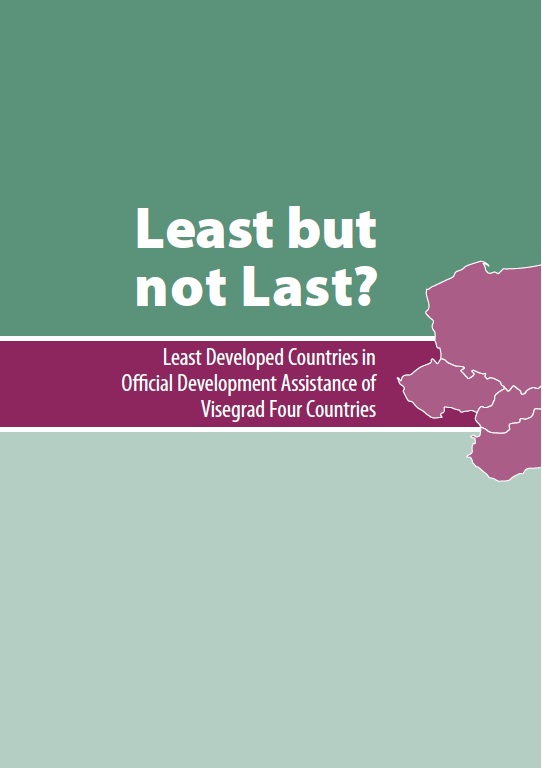 Least but not Last?
This report is an outcome of a research study dealing with the position of the least developed countries (LDCs) in development policies of Visegrad Four (V4) countries from 2004 to 2008. Sponsors of the research1 "perceive[d] that there has been insufficient lesson learning and experience sharing on the regional level and would like to support analysis comparing the national ODA systems in the V4 countries, specifically with regard to ODA allocated to LDCs" (People in Need, 2009).
Focus on least developed countries is important for two reasons. First, although according to statistics there has been significant progress made in many countries in the world over the past decades, there is still a group of states that have continued to be trapped in the vicious cycle of poverty. It is thus essential to have a concise overview of how V4 countries participate in efforts to improve the situation in LDCs within national ODA policies. Second, from recent studies (for example Collier, 2007) it has been evident that the aid provided to these countries often does not have the expected impact and that LDCs in fact become dependent on external aid.
This situation not only hinders their development in the long-term perspective but, contrary to the well-intended goals of development, assistance leads to increased vulnerability of the LDC populations. The issue of aid effectiveness along with the perceived need for better coordination and cooperation among the donors thus seems to be crucialin efforts to achieve goals set up on international and national levels with regard to LDCs.
Based on this assessment, the main questions for comparative analysis were therefore set in two areas:
1. How are LDCs included in development policies and official development aid of V4 countries?
2. What are the opportunities for improvement both on national levels and via cooperation among V4 countries in leveraging aid effectiveness for LDCs? The research was conducted at the national level from December 2009 to March 2010 through study of printed and electronic materials and through interviews with key stakeholders in each of the V4 countries. The comparative analysis was performed in the period from April to June 2010 and revised and updated in September 2010.
This analysis was produced as part of the international project To Act You Have to Know, implemented jointly by the Czech People in Need (PIN), the Polish Humanitarian Action (PAH), the Hungarian Foundation for Development of Democratic Rights (DemNet), the PDCS, the Slovak NDGOs platform (P MVRO) as well as the Dutch European Journalism Centre (EJC). The To Act You Have to Know project seeks to strengthen the role of Central European countries (Czech Republic, Hungary, Poland, Slovakia) within the context of European development assistance and international politics. This programme also operates on a national level to instigate public debate on the problems of less developed countries and development cooperation.
How to quote us
MIHÁLIK, Ján (ed). 2010. Least but not Last? Bratislava: People in Need, 2010. 29 p. ISBN 978-80-87456-04-0.
Môže sa vám ozvať naša Monika?

Ak chcete mať čerstvé informácie o našich lunchseminároch, otvorených kurzoch, konferenciách, či vzdelávacích olovrantoch, nechajte nám na vás kontakt. Sľubujeme, že vás nebudeme otravovať :).

Prihlásiť sa na odber noviniek

Monika Straková

Riaditeľka kancelárie

---